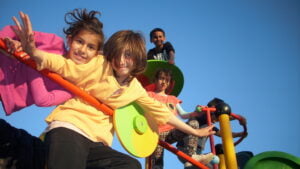 Background
This is a unique project, which is happening for the very first time in Bulgaria and does not have an analogue neither in the Balkans nor in Eastern Europe. How it differs from the other schools is that its innovative focus is mainly on gifted and awaken children from the poorest strata of society and from different ethnicities. Our children's background is one of complete social isolation and bearing the stigma of doom, deprived of the right to an equal start and a chance for development. The number is growing menacingly and requires a huge responsibility for the future in our society. The goal of the school is an adequate solution to this situation and has a historic impacts as we literally save lives and change destinies.
What we provide   
The pupils in the school in Rusalya come from all over the country. Here they are provided with FREE education, year-round boarding in the accommodation built adjacent to the school's building, with good living conditions, individual care and a lot of love!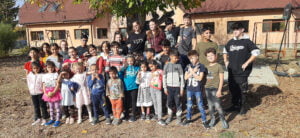 The educational program includes, in addition to the compulsory subjects, enhanced art studies – theater, music, dance, painting, as well as crafts typical for Bulgaria, applicable in modern businesses.
Placed in appropriate conditions, children have the opportunity to overcome the accumulated social, emotional and educational deficits due to their previous lifestyle and to choose for themselves an alternative path of development, fulfilling their creative and intellectual capacity.
Our mission is to build individuals with a sustainable value system and life principles, intelligence, self-esteem and confidence and last but not least, to motivate them to live and work in their homeland.
The school is positioned in central Bulgaria – the village of Rusalya, near the old capital – Veliko Tarnovo. The choice is consistent with the idea of children living in nature, in a quiet, peaceful and beautiful place and at the same time being close to major university cities and landmark places related to Bulgarian history, traditions and culture.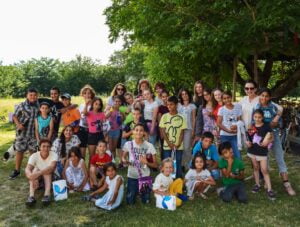 There is a 26 acres land upon which the overall School complex with a capacity for 250 students is gradually built. The first school building, a two-storey living house, a separate food canteen with a psychologist's office, a medical office and an outpatient clinic have already been built.
The future
We aim at developing and building a second school campus, a sports hall and 2 sports courses is, an art hub with theater hall, exhibition spaces and creative studios, open amphitheater, eco-gardens, playgrounds, bike paths, etc.
The school is self-funded, has an open donation account listed on https://www.rusalya.org/ website, and in https://www.facebook.com/Rusalya you can see the most up-to-date information.